Strolling the gardens at Royal Roads University can be compared to a tour of a historic house, each room decorated in its own unique floral furnishings.
One "room" is the Italian garden, decked out with geometric shapes planted in trimmed boxwood hedges, edged lawns and colourful borders.
Another is the English rose garden containing dozens of David Austin varieties. Two more rooms would be Japanese gardens, complete with shaded ponds, natural streams and pagoda-style shelters with benches and seats.
A walled garden, originally the vegetable garden, would be another. And a clipped patch of lawn, bordered with flowers, is a regulation-size croquet pitch.
"The style of the times was to lay things out in distinct garden rooms," explained Royal Roads head gardener Barrie Agar. "That was what the people in Edwardian times were trying to create."
The 13 hectares of gardens at Royal Roads are 100 years old. They were completed five years after Hatley Castle was finished in 1908 for Vancouver Island coal baron James Dunsmuir. They were designed by Boston-based Brett and Hall, one of the first design firms to specialize in landscape architecture.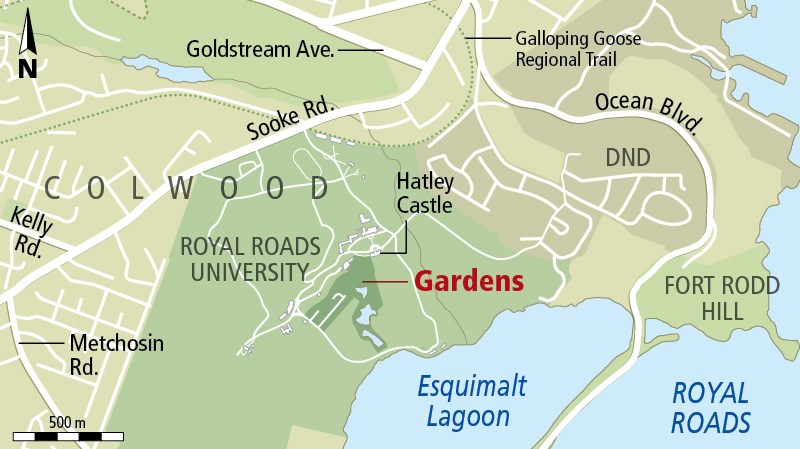 Agar said Dunsmuir's intent for the grounds was to re-create an English country estate with gardens for outdoor relaxation and entertainment.
Dunsmuir's favourite part of the garden was the Italian garden, with its geometric shapes rimmed by plantings of sweet-potato vine, zinnia and osteospermum.
Surrounding beds there are piled with plants such as hollyhocks, sunflowers and purple monk's hood. Standing tall at the corners of the Italian garden's cruciform shape are concrete planters brimming with purple lobelia, white bacop and petunia, and exploding with spiky pennisetum grass stalks.
Dunsmuir may have loved the squared-off geometry of the Italian gardens, but his wife, Laura, was always very fashion-conscious. And the fashion of her day was Japanese gardens.
Agar said Japanese gardens were traditionally dominated by two species — maple trees and azaleas. Designs were simple and elegant, but gardeners always sought to introduce little sites of interest.
Agar is especially fond of one small, tucked-away, walled pond fed by a small stream. It's made in a style unlike other features in the garden, and Agar believes it was constructed by one of the Japanese gardeners who lived in a shed nearby.
In spare moments, the gardener would have added his own personal touches, now discernible to those willing to look closely.
Agar likes to pay homage to the original planners and planters of the Royal Roads gardens. They were, in fact, constructing something that would endure, bloom and mature decades later, perhaps even after they were gone.
She also likes to acknowledge what is now a national historic site, created from the Dunsmuir wealth but which has been taken over and preserved by the public.
"Originally, it was a rich man's environment," Agar said. "It was a garden of privilege, but now it is a garden for everybody."