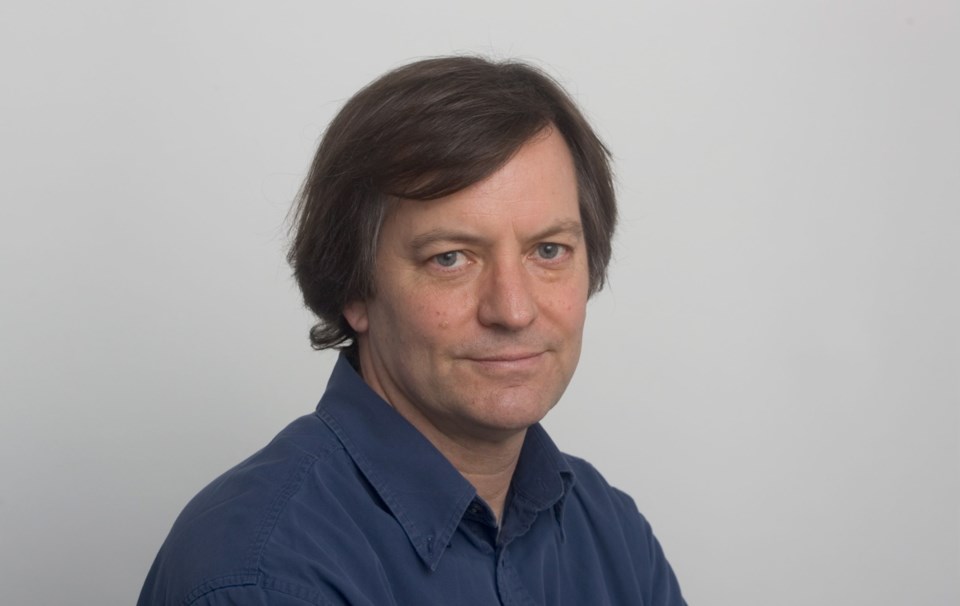 Shawn Shepherd and Mary Patterson have operated their Polychrome Fine Art for a few years. It's not one of those upstairs out-of-the-way spaces full of esoteric installations with nothing for sale. And it's not a craven commercial outlet with smartly dressed gallerists and tags that say "price available on request."
Shepherd is an artist himself, of a relentlessly creative sort, and has lots of friends who are artists. And he has a strong interest in local art history and a good eye for work that comes up on the "secondary market."
At the moment, Polychrome is presenting Paper Trail, a dense and diverse show of works of art on paper. Small in scale, they are certainly affordable and collectable.
Some of the most interesting pieces are there on consignment, and I expect as Polychrome's reputation grows, more work will be consigned. This week you can see two coloured woodcuts by Alistair Bell (1913-1997). One of each of Bell's prints is on deposit at the Art Gallery of Greater Victoria, and both Bateleur Eagles and the waterfront scene were included in his retrospective there in 1982.
Another senior artist, John Snow, is represented by two coloured stone lithographs. Snow lived and worked in Calgary, where he helped Maxwell Bates to make many prints. There is a pleasing density to Snow's work, the result of many printings overlaid. It was through Snow that Seng Yun Kwon discovered Polychrome.
Seng is a native of Korea but has lived in Calgary for many years. His daughter now plays in the Victoria Symphony, so he is often in town, and as an artist and associate of Snow he was naturally interested in Polychrome. He has four woodcut prints on show, two black and white images, and two striking red and black ones, based on powerful ancient calligraphic forms.
A series of black and white screen prints by Attila Richard Lukacs has been consigned to Polychrome. They depict cuts of meat in a butcher shop, and were included in his first show when he graduated from art school. Lukacs went on to huge fame with his very large oils of skinheads in desolate factories in Berlin, but here you have a chance to pick up a "rare early work."
Another artist of world renown is Andrew Lewis, whose posters and graphic designs have made him a celebrity in Paris, Mexico City, Buenos Aires and Tokyo. Lewis, working closely with Island Blue, made small versions of some of his most famous designs for a show at Polychrome last year, and they are for sale at modest prices. Since then, this longtime resident of Brentwood Bay has seen the light and returned to live in Toronto.
Lance Olsen has been living in Victoria for years, but his uncompromising approach to art has kept him on the far side of celebrity. He likes to engrave on copper plates, sometimes in conjunction with his concrete sound performances. The current batch, involving erotic elements and a generous dose of scribble, was printed recently by another of our local treasures, intaglio-printing expert Suzy Raxlen.
Another dark horse on the local scene is Roy Green. This time around, Green is represented by four deceptively simple brush drawings. He sketches in a face with one colour and, over top of it, sketches in another face in another colour. As you look at them, your brain switches backward and forward, creating a mysterious effect, much greater than the sum of the parts.
A flash from the past is the beautiful coloured block prints of Sandra Millott. Millott has worked hard for a generation to create gorgeous polychrome pottery (visible at Rebar Café). But Shepherd sought out her art-school prints, which are confident and sexy. Let's encourage her to get back to printmaking.
Ingrid Mary Percy's work was inspired by her teaching. Paper was coated with miscellaneous colours, and then she cut the paper out into simple forms. These she assembled onto larger sheets of paper. The fresh colours and free association of the shapes could be anything, but somehow they always add up to Ingrid Mary Percy every time.
Charles Campbell has been printing patterns on paper which when cut out can be folded into something like a small geodesic dome. In this show, the entire shape is centred on a page, and the silk-screen printing is certainly accomplished.
For years I was mystified by the various projects of Caleb Speller. Was it to be pottery, assemblages of felt on the floor, or paintings that hovered between narrative and abstract? A book on the artist that came out last year gave a look at the breadth of his work and the wellsprings of his ideas. Speller offers four fine little watercolours, of tattered books with Canadian content, from The Ecstasy of Rita Joe to a bright red Dale of the Mounted. It's a nice blend of thoughtful and carefree.
Shepherd himself is represented by recent prints he made using cast-off electrotype plates from newspapers of old. These plates for printing mundane photos have been inked in a delicious riot of colour.
As Shepherd was hanging the show, a young woman with a portfolio came in for a look. He asked to see her work, and to her surprise included two of her drawings in this, her first show! She's Allie Parker, daughter of renowned local painter Ron Parker.
Something for everyone. Look carefully and you'll even find a watercolour of a spring lily by Sophie Pemberton, British Columbia's first professionally trained artist.
Paper Trail at Polychrome Fine Art, 977-A Fort St., 250-382-2787, polychromefinearts.com until Feb. 26.