You probably haven't met billionaire industrialist and philanthropist Dennis Washington, but he plays a big role in Greater Victoria. Washington's diverse group of companies includes Victoria Shipyards, a job-creator in Esquimalt where it generates dollars that circulate through the capital region's economy.
Montana-based Washington will further strengthen ties in Greater Victoria on June 4, when he becomes the Distinguished Entrepreneur of the Year, an honour bestowed by the University of Victoria's Peter B. Gustavson School of Business.
His is an inspiring story of a young man from modest beginnings whose determination and hard work led him to success. Business savvy and a life-long work ethic propelled him to billionaire status.
Victoria businessman Peter Gustavson, chairman of UVic's Distinguished Entrepreneur of the Year committee, said, "Dennis was an entrepreneur and a very hard worker by an early age. He grew up with little wealth so he understood the importance of hard work and the value of money."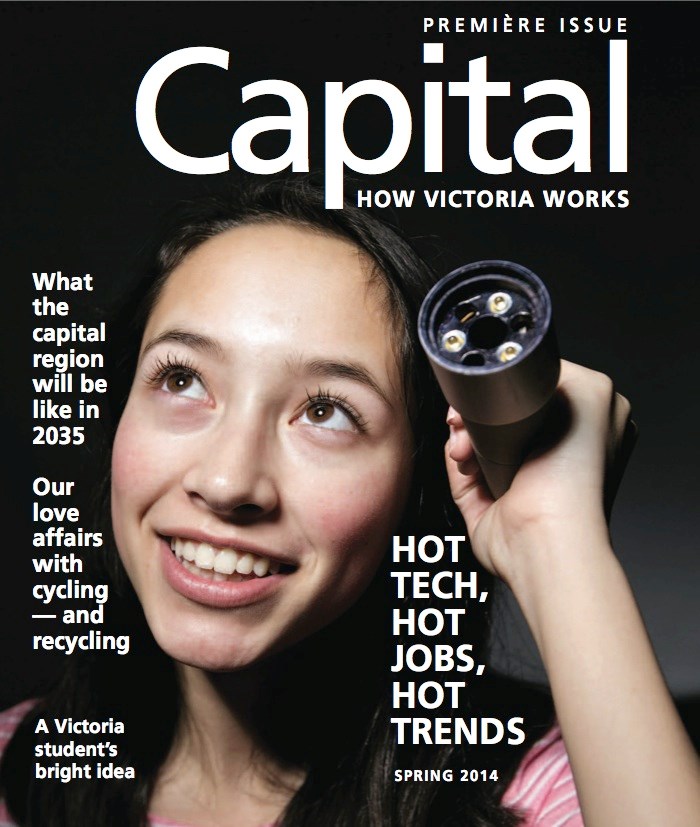 Click on the cover to
read the premiere
issue of Capital
magazine online.
Washington took calculated business risks and worked hard to make sure he did not fail, Gustavson said.
"Dennis has had drive and vision his whole life; the reasons for his success are not a secret. He has the ability to see opportunities where others cannot and the drive to take risks and aggressively pursue them."
Washington is ranked 71st among Forbes's list of wealthiest Americans, with a estimated net worth of $5.8 billion. He's ranked 233rd among the world's billionaires.
The Washington Companies include rail and marine transportation, aviation, environmental remediation, heavy equipment sales and leases, as well as mining.
Also part of the group is North Vancouver-based Seaspan Marine Corp., owner of Vancouver Shipyards, Vancouver Drydock and Victoria Shipyards, which is preparing for an estimated $7.3-billion worth of federal ship building.
Victoria Shipyards is carrying out multimillion-dollar and multi-year contracts to modernize and maintain federal frigates and Canadian submarines.
Dennis Washington's roots are in the Pacific Northwest. He was born in 1934 in Spokane, Wash., moving to Missoula, Mont., as a youngster, said a UVic-supplied biography. "Like a lot of people in the 1930s, we didn't have a lot of money," he said.
"But my parents were good people. My mother was a very loving person and my father was a tough, strong guy."
Washington moved several times in his childhood, living in California, Washington and Montana, changing schools each time. By age 14, he was self-sufficient, earning money boxing groceries, delivering newspapers, shining shoes and working at service stations.
In his final high school years, Washington lived with his grandmother in Montana, the biography said. "She gave me love and stability at a time in my life when I really needed it. She believed in me and my dreams and my desires."
Washington went into business for himself in 1964, backed by a loan from a Caterpillar dealer. By 1969, he was the largest contractor in Montana.
From there, he grew and diversified his business empire.
Dennis and his wife, Phyllis, are devoted to philanthropy, believing the "greatest benefit to society is made through uplifting individuals," according to the Dennis and Phyllis Washington Foundation website.
The foundation focuses on education, arts and culture, health and human services, and community services. Funds come from Washington Companies profits and personal contributions from Washington family members. The foundation has donated more than $130 million to worthy causes.
"Besides helping people access the basic necessities of life, Dennis and Phyllis have a particular interest in youth and education," the Foundation's website says. The couple's core values are defined as "integrity, compassion, courage, vision, and perseverance."
The Washingtons' 64,000-acre family ranch in Oregon was donated to the Young Life organization.